Nashville Real Producers Feature | 2023
Posted by Megan Mathewson on Saturday, May 27, 2023 at 7:00 AM
By Megan Mathewson / May 27, 2023
Comment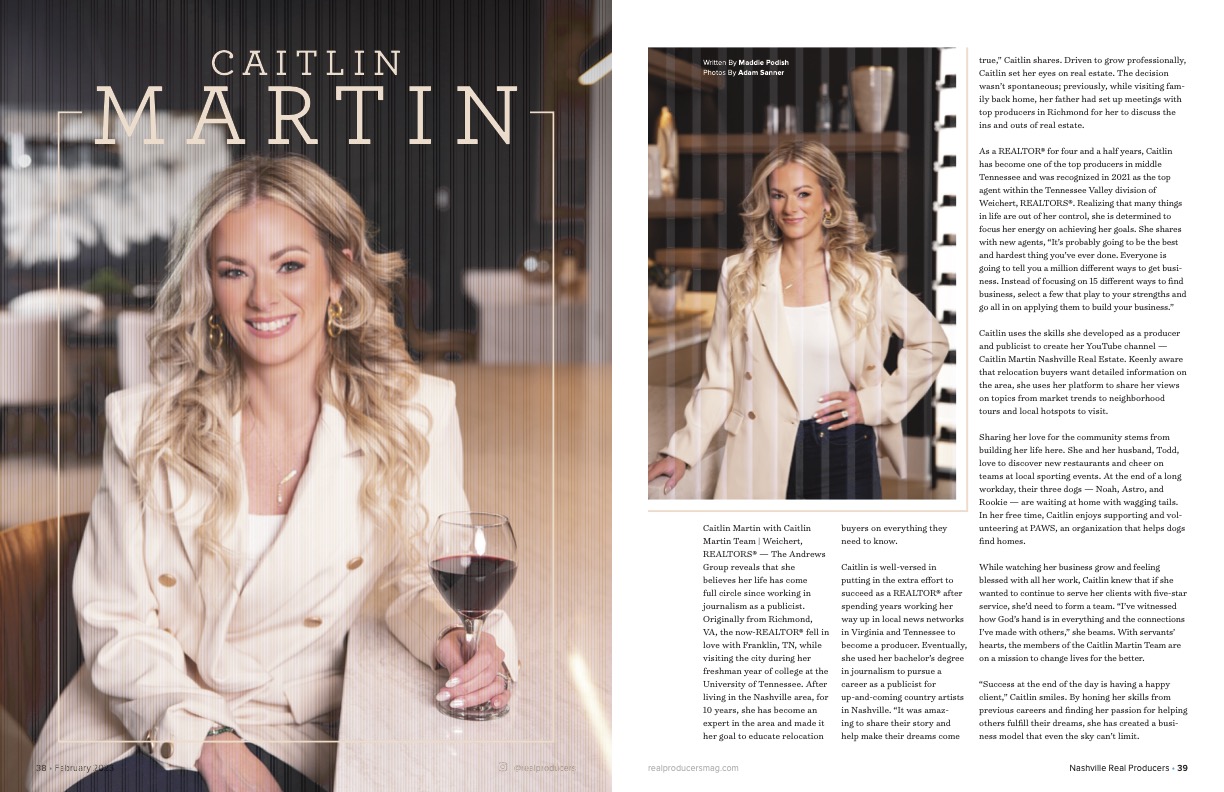 Caitlin Martin with Caitlin Martin Team | Weichert, REALTORS® - The Andrews Group reveals that she believes her life has come full circle since working in journalism as a publicist. Originally from Richmond, VA, the now-REALTOR® fell in love with Franklin, TN, while visiting the city during her freshman year of college at the University of Tennessee. After living in the Nashville area, for 10 years, she has become an expert in the area and made it her goal to educate relocation buyers on everything they need to know.
Caitlin is well-versed in putting in the extra effort to succeed as a REALTOR® after spending years working her way up in local news networks in Virginia and Tennessee to become a producer. Eventually, she used her bachelor's degree in journalism to pursue a career as a publicist for up-and-coming country artists in Nashville. "It was amazing to share their story and help make their dreams come true," Caitlin shares. Driven to grow professionally, Caitlin set her eyes on real estate. The decision wasn't spontaneous; previously, while visiting family back home, her father had set up meetings with top producers in Richmond for her to discuss the ins and outs of real estate.
As a REALTOR® for four and a half years, Caitlin has become one of the top producers in middle Tennessee and was recognized in 2021 as the top agent within the Tennessee Valley division of Weichert, REALTORS®. Realizing that many things in life are out of her control, she is determined to focus her energy on achieving her goals. She shares with new agents, "It's probably going to be the best and hardest thing you've ever done. Everyone is going to tell you a million different ways to get business. Instead of focusing on 15 different ways to find business, select a few that play to your strengths and go all in on applying them to build your business."
Caitlin uses the skills she developed as a producer and publicist to create her YouTube channel – Caitlin Martin Nashville Real Estate. Keenly aware that relocation buyers want detailed information on the area, she uses her platform to share her views on topics from market trends to neighborhood tours and local hotspots to visit.
Sharing her love for the community stems from building her life here. She and her husband, Todd, love to discover new restaurants and cheer on teams at local sporting events. At the end of a long workday, their three dogs — Noah, Astro, and Rookie — are waiting at home with wagging tails. In her free time, Caitlin enjoys supporting and volunteering at PAWS, an organization that helps dogs find homes.
While watching her business grow and feeling blessed with all her work, Caitlin knew that if she wanted to continue to serve her clients with 5-star service, she'd need to form a team. "I've witnessed how God's hand is in everything and the connections I've made with others," she beams. With servants' hearts, the members of the Caitlin Martin Team are on a mission to change lives for the better.
"Success at the end of the day is having a happy client," Caitlin smiles. By honing her skills from previous careers and finding her passion for helping others fulfill their dreams, she has created a business model that even the sky can't limit.
Interested in learning about what it's like to work with The Caitlin Martin Team?